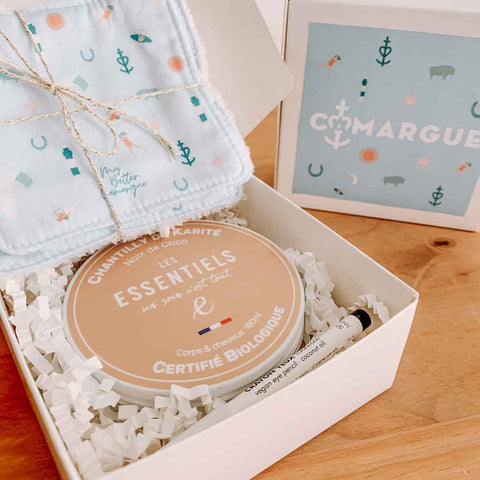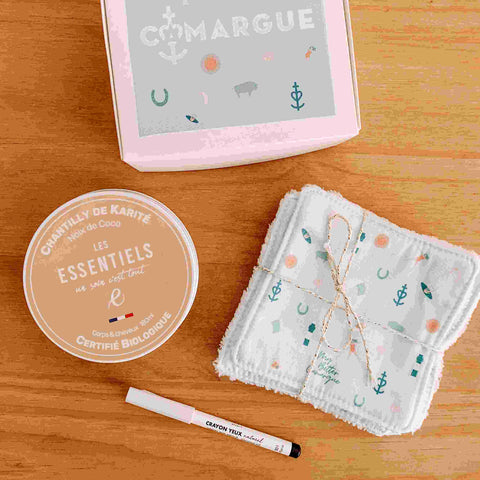 Coffret Cadeau Soin et Beauté au naturel
Coffret Cadeau Soin et Beauté
Offrez la Beauté au naturel
Avec notre Coffret Soin et Beauté au naturel, spécialement conçu pour prendre soin de soi de manière responsable et agréable. Ce coffret, emballé dans un joli écrin en carton, est prêt à offrir à vos proches, que ce soit pour un anniversaire, une fête ou simplement pour montrer votre affection.
Contenu du Coffret :
Baume Chantilly au Karité et à la Coco

Un soin hydratant et nourrissant à la texture légère et onctueuse, parfait pour le corps et les cheveux. Il est formulé à base d'ingrédients naturels, tels que le karité et la coco, pour une peau et des cheveux doux et revitalisés.

Crayon Noir pour les Yeux

Sublimez votre regard avec ce crayon noir de haute qualité. Enrichi en huile de coco, il glisse en douceur et offre un fini impeccable, idéal pour un maquillage au naturel.

Lot de 4 Maxi Lingettes Lavables en Bambou Oeko Tex

Contribuez à réduire votre empreinte écologique avec ces lingettes lavables en bambou certifié Oeko Tex. Elles sont douces pour la peau et respectueuses de l'environnement, remplaçant avantageusement les lingettes jetables.
Tous ces produits sont fabriqués en France, garantissant une qualité exceptionnelle. En offrant ce coffret, vous soutenez la production locale et contribuez à promouvoir des pratiques écoresponsables. C'est le cadeau idéal pour chouchouter vos proches tout en prenant soin de la planète.
Faites plaisir à vos proches en leur offrant ce Coffret Soin et Beauté, une véritable invitation à la détente et à la beauté au naturel.
Ingredients
Use & Care
Shipping & Returns Information
We ship worldwide, cost and delivery time depend on your location.
We gladly accept returns of unused products within 30 days of purchase.