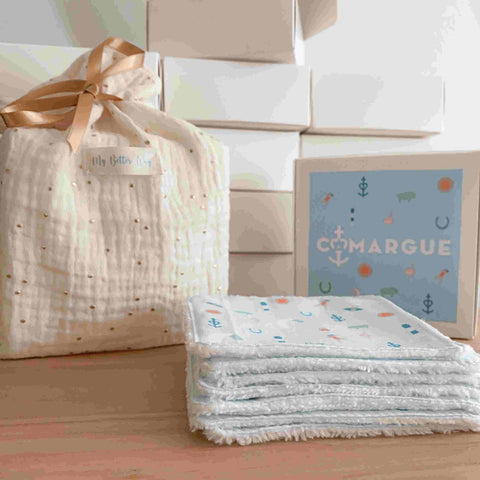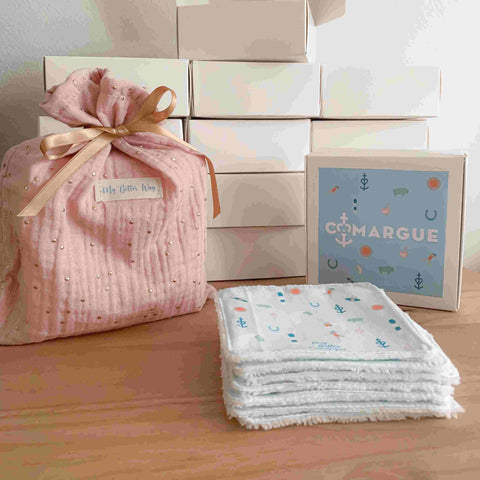 Maxi Lingettes Lavables Bambou: Un Plaisir Sensoriel et Écologique
L'Éco-Responsabilité à chaque Démaquillage
Dites adieu aux cotons démaquillants jetables! Nos maxi lingettes Démaquillantes Réutilisables sont la solution écologique par excellence. Fabriqués à partir de fibres de bambou ultra-douces, ces pads non seulement prennent soin de votre peau, mais aussi de notre planète. En optant pour ces carrés réutilisables, vous réduisez votre empreinte carbone tout en maintenant une routine beauté exceptionnelle. Faites partie du mouvement éco-responsable avec des gestes simples au quotidien.
Des Matériaux Certifiés pour un Engagement Écologique
Notre engagement envers l'environnement commence par le choix des matériaux. Ces lingettes lavables sont fabriquées à partir de 100% popeline de coton et de tissu éponge en Bambou certifié EOKO-TEX. Le bambou, avec sa croissance rapide et sa faible consommation d'eau, offre une alternative écologique au coton. La certification EOKO-TEX garantit une utilisation sans produits chimiques nocifs pour votre santé. Faites un choix conscient pour un mode de vie durable.
Réduisez Votre Impact, Économisez Plus de 2000 Cotons Démaquillants par An
Adoptez une routine beauté durable avec ce coffret de 7 maxi lingettes lavables et réutilisables. En plus de prendre soin de votre peau en douceur, elles contribuent à une économie significative de plus de 2000 cotons démaquillants par personne et par an. Une petite action quotidienne avec un impact majeur sur l'environnement. Offrez-vous ou offrez à vos proches un cadeau responsable et utile.
Ajoutez un Pochon Cadeau en Tissu Double Gaze de Coton à Votre Commande
Optez pour une touche de charme supplémentaire en ajoutant à votre commande un pochon cadeau en tissu double gaze de coton. Remplacez le papier cadeau traditionnel et réduisez ainsi le volume de déchet. Une option écologique pour compléter votre achat et faire de votre geste d'offrir un acte respectueux de l'environnement.
Lot de 7 maxi lingettes réutilisables dans coffret en carton illustration CAMARGUE par sixlou les bois
Ingredients
Use & Care
Shipping & Returns Information
We ship worldwide, cost and delivery time depend on your location.
We gladly accept returns of unused products within 30 days of purchase.