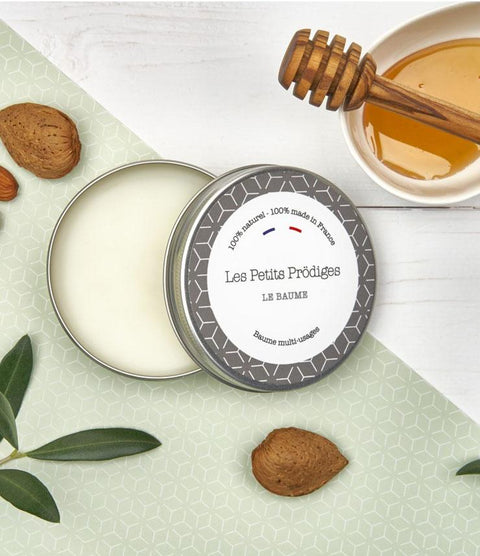 Baume Neutre Multi-usages
Ce baume tout-en-un est 100% naturel et fabriqué en France.
Testé sous contrôle dermatologique, il répondra à tous vos besoins soins et beauté.
Cet élixir sans paraben et sans conservateur, possède de nombreuses vertus, il convient à toute la famille, même aux bébés et femmes enceintes, et à tous types de peau.
Composé de seulement 7 ingrédients naturels, dont l'huile d'amande et miel, qui nourrissent, apaisent, protègent et adoucissent. On peut l'utiliser de la tête aux pieds pour démaquiller, nourrir la peau et les cheveux, les ongles et cuticules. 
Fini l'accumulation de flacons dans la salle de bain, vous n'avez plus besoin que d'un seul produit grâce à ce baume multi-usages.
Format 30ml.
Note Yuka 100/100
Ingredients
100% d'origine Naturelle 🌿

Composition
Huile d'Olive Bio, Cire d'Abeille, Miel, Huile d'Amande douce, Arnica, Gelée Royale, Vitamine E.&nbsp;<br>
Sans paraben - sans conservateur - non testé sur les animaux.

LISTE INCI
OLEA EUROPAEA FRUIT OIL, CERA ALBA, PRUNUS AMYGDALUS DULCIS OIL, MEL EXTRACT, ROYAL JELLY EXTRACT, HELIANTHUS ANNUUS HYBRID OIL, ARNICA MONTANA FLOWER EXTRACT, TOCOPHEROL.

Use & Care
Prenez une petite quantité du baume magique et réchauffez-la dans la paume de votre main jusqu'à obtenir une huile. Massez doucement la zone souhaitée aussi souvent que vous le souhaitez !

Visage : appliquez de préférence le soir en dernière étape de votre routine beauté.
Corps et mains : appliquez sur toutes les zones sèches et rugueuses.
Démaquillant : massez sur tout le visage (y compris les yeux), puis retirez l'excès en utilisant un coton lavable humidifié et finalisez le nettoyage avec un nettoyant pour le visage.
Lèvres : appliquez une fine couche avec le doigt.
Cheveux : appliquez en masque de nuit sur les pointes et les longueurs avant votre shampoing.
Ongles : massez les cuticules.
Après-soleil : appliquez après avoir été exposé au soleil sur une peau propre.
Après-rasage/post-épilation : appliquez directement après le rasage ou l'épilation.

Shipping & Returns Information
We ship worldwide, cost and delivery time depend on your location.
We gladly accept returns of unused products within 30 days of purchase.