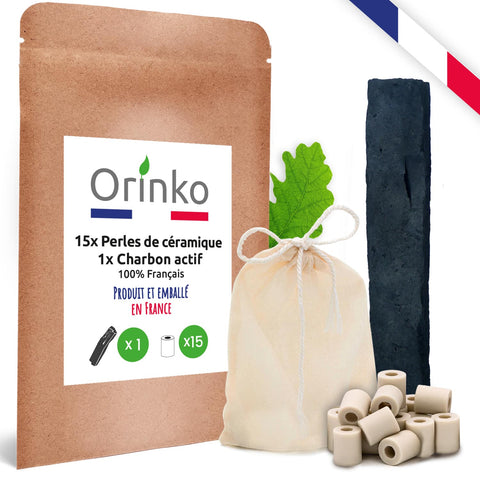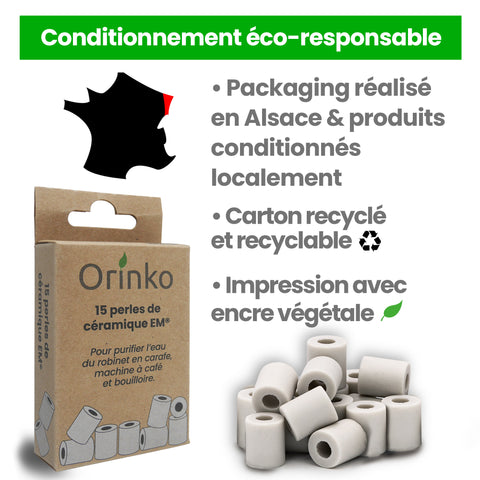 Activated carbon and ceramic beads pack
Discover the 100% French activated carbon Pack 🌿 X1 accompanied by 15 gray ceramic beads 🌀, the perfect combination to purify your water 💧 and improve your daily life by eliminating plastic bottles.
This exclusive pack is designed to give you a superior filtration experience and unrivaled benefits.
The 100% French activated carbon contained in this pack is a real natural treasure. Thanks to its absorption properties, it effectively removes impurities, heavy metals and chemical pollutants present in your water. You will be able to enjoy pure and crystal clear water, preserving the natural taste of your favorite drinks ☕🍹.
The 15 gray ceramic beads are the ideal complement to activated carbon. They help balance the pH of water, neutralizing harmful substances and improving the overall quality of your drinking water. In addition, they reduce chlorine and bad odors, giving you a refreshing and pleasant drink with every sip 🌈🚰.
This pack is not only beneficial for your health, but also for the environment 🌍. By choosing 100% French activated carbon, you support the local economy and reduce your carbon footprint ♻️. Additionally, ceramic beads are reusable and last up to 10 years, making them an eco-friendly and economical choice 💚💰.
Transform your tap water into a source of well-being with the 100% French activated carbon pack X1 and the 15 gray ceramic pearls.
Don't wait any longer and enjoy all the benefits it offers you now.
Choose quality, health and durability by opting for this exceptional pack. 💦🌟!
Ingredients
Coal made in France from French oak or beech wood from the recovery of sawmill waste in France.

Made from clay fired at very high temperatures (up to 1000°C), ceramic beads are enriched with effective micro-organisms, called "EM".
Use & Care
French charcoal is used directly in a carafe, bottle or gourd.

Boil the charcoal stick 10 minutes before first use or after each month of use to maintain good filtration
Let dry for a few minutes
Place the charcoal in a jug and immerse it in water
Make sure the neck is wide enough to easily remove the charcoal if necessary.

Filtration time

4h (87% chlorine eliminated)

8h (100% chlorine eliminated)

Effective time

approximately 6 months

The pearls can be used either in a carafe or in your coffee maker or kettle to prevent scale from becoming encrusted.

Soak the pearls for 10 minutes in boiling water before first use
Let them dry
Add your pearls to the tap water container or coffee maker reservoir
Leave the water to act for 30 minutes before consuming the water.
For greater effectiveness, you can leave the pearls in the water.
Wash your pearls with soapy water when you notice a deposit.

Effective time

10 years for gray pearls
Shipping & Returns Information
We ship worldwide, cost and delivery time depend on your location.
We gladly accept returns of unused products within 30 days of purchase.