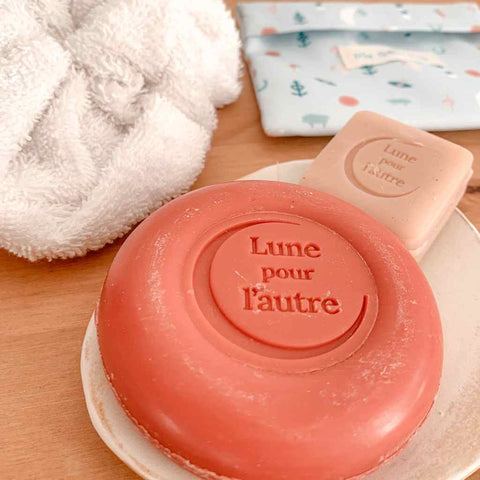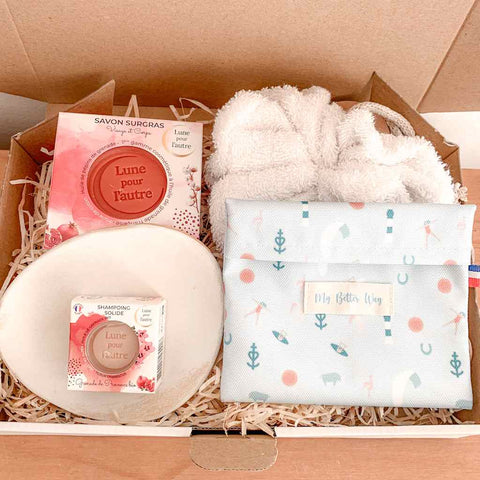 Coffret Soin Douche à la Grenade
Coffret prêt à offrir comprenant :
Un Savon à la Grenade 100gr Lune pour Lautre
Un Shampoing Solide 25gr Lune pour Lautre
Un Fleur de Douche en tissu Eponge Lavable Simple Things
Un porte savon en céramique Wilmotte Cosmétiques x 

Caroline Augier 

Une pochette de transport imperméable My Better Way
Découvrez l'éclat de la grenade
Succombez à la splendeur naturelle de notre Coffret Soin Douche à la grenade, une expérience sensorielle qui éveillera vos sens. Plongez dans l'univers envoûtant de la grenade, connue pour ses propriétés revitalisantes et régénérantes. Laissez-vous transporter par le parfum fruité et vibrant qui imprègne chaque produit de ce coffret exquis.
Une routine beauté éco-responsable
Engagez-vous envers la planète tout en prenant soin de votre peau avec notre Coffret Soin Douche à la grenade. Chaque composant de ce coffret a été soigneusement sélectionné pour sa durabilité. Du shampoing solide à la fleur de douche en tissu éponge lavable et réutilisable, chaque élément incarne notre engagement envers une beauté responsable. Adoptez une routine écologique sans compromis sur la qualité et le bien-être.
Le luxe de la Provence chez vous
Offrez à votre peau le luxe de la Provence avec notre Coffret Soin Douche à la grenade. Chaque détail de ce coffret, y compris le savon 100g et le porte-savon en céramique, est inspiré par l'artisanat de la Provence. Plongez dans une expérience de soin qui marie tradition et innovation. Laissez-vous séduire par le charme intemporel de la céramique et l'arôme enivrant de la grenade, apportant le raffinement provençal à votre routine quotidienne.
Un Coffret Prêt à Offrir pour un Noël Éco-Responsable
Faites de cette saison de fêtes un moment encore plus spécial avec notre Coffret Soin Douche à la grenade, prêt à être offert. Embrassez l'esprit de Noël tout en restant éco-responsable en choisissant ce cadeau attentionné. Ce coffret exquis, emballé avec soin dans un emballage écologique, est le présent idéal pour vos proches. Offrez-leur la joie d'une expérience sensorielle luxueuse et la satisfaction de contribuer à la préservation de notre planète. C'est le cadeau parfait pour un Noël qui allie glamour, éthique et engagement envers un mode de vie durable.
Ingredients
Use & Care
Shipping & Returns Information
We ship worldwide, cost and delivery time depend on your location.
We gladly accept returns of unused products within 30 days of purchase.