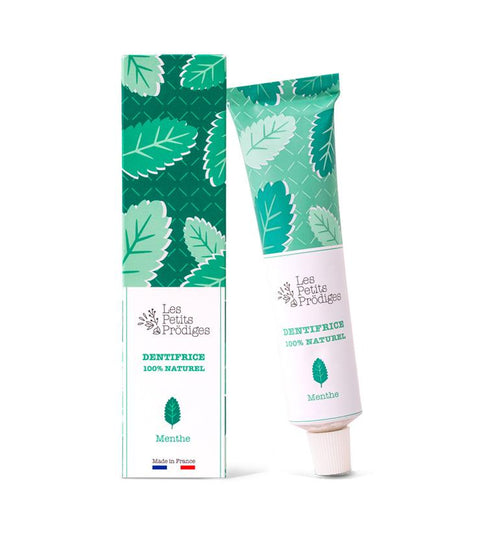 Natural Mint Toothpaste
New for the care and maintenance of your teeth, discover the natural toothpaste from the Les Petits Prodiges brand, made in France.
A healthy and completely natural product, this mint toothpaste is also an excellent choice for a healthier and more eco-responsible quality of life.
Natural components
Natural toothpaste is a product resulting from careful production. Each of the ingredients used has been carefully selected for virtues and properties intended to improve the shine and health of your teeth . There is mainly calcium carbonate, which cleans gently and effectively, or even erythritol, from fermented foods, it replaces fluoride very well to fight against the appearance of cavities and dental plaque.
An ecological product
An excellent choice for the bathroom, natural mint toothpaste is a 100% ecological product. Its packaging has been designed to be 100% recyclable, which is why beyond the cardboard case, its tube is made of aluminum rather than plastic... In short, it is flawless for this essential product. 'hygiene.
A dazzling smile
Don't hesitate to use Les petits Prodiges toothpaste for a dazzling smile and white teeth . Thanks to menthol which is a freshening agent present in this product, you can also benefit from fresh breath throughout the day.
Use reserved for adults and children aged 10 and over.
Size: 75ml
Yuka rating: 79/100
Ingredients
Calcium Carbonate (gentle cleaner which provides calcium to your teeth), Water, Glycerin (natural preservative), Erythritol (against the formation of cavities), Water extracted from peppermint leaf, Baking Soda (whitening agent), Coconut Glucoside (natural foaming agent), Stevia Rebaudiana, Aloe leaf juice powder.


INCI LIST

CALCIUM CARBONATE, AQUA, GLYCERIN, ERYTHRITOL, MENTHA PIPERITA LEAF WATER, SODIUM BICARBONATE, COCO- LUCOSIDE, LIMONENE.

Size: 75ml


Use & Care
Apply a dab to your toothbrush. Brush your teeth then rinse. Repeat 2 to 3 times a day!
Use reserved for adults and children over 10 years old.
Shipping & Returns Information
We ship worldwide, cost and delivery time depend on your location.
We gladly accept returns of unused products within 30 days of purchase.