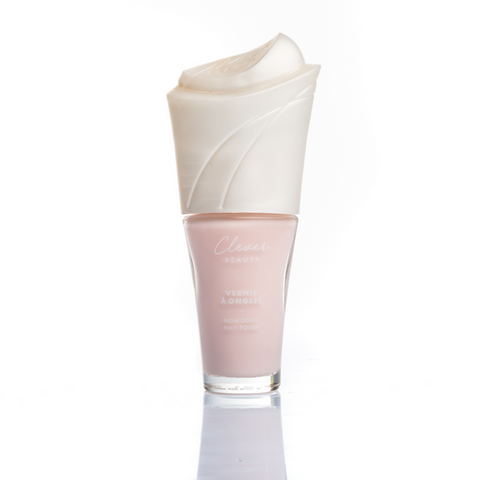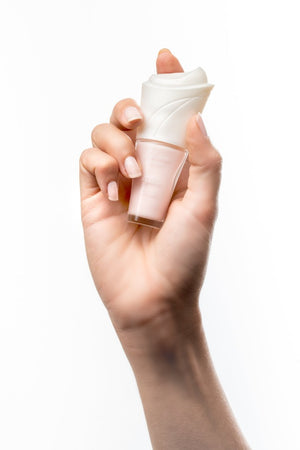 Organic vegan nail polish - 3 in 1 treatment
Difficult to maintain your beauty routine while respecting the environment?!
Not anymore, this natural organic varnish and treatment by Clever beauty answers all the problems:
it is made in France in the south by a committed and supportive company,
its natural composition respects the environment and health,
it is cruelty free (respect for the animal cause) and vegan
its bottle was designed to avoid waste and the production of waste.
it guarantees optimal efficiency while maintaining the notion of pleasure of use
Because YES, we can enjoy looking beautiful without sacrificing our environmental commitment and our values! After all, it is possible to take care of yourself by respecting your convictions and having fun, so why deprive yourself of it?
The essential 3 in 1 nail polish for your manicure
Why make it complicated, when nature gives us everything we need?
This is the vision of quality organic cosmetics, at Clever Beauty we use natural ingredients to make practical products, easy to use and respectful of everyone. Composed essentially of a fruit, the durio, this varnish can be used as a base, as an enhancer or as a treatment for nail care.
Designed to be practical, the 3 in 1 nail polish #Parfaite from Clever Beauty offers you magnificent nails and deep care for a manicure that is always perfect!
The little revolutionary anti-waste tip: the cap is fitted with a push button allowing you to extend the size of the brush to easily reach the bottom of the bottle and use your varnish until the last drop! Once finished, you can recycle the glass bottle, and the plastic cap.
How to take care of your nails with our products made in France?
Nothing could be simpler, just integrate this little organic varnish into your skincare routine! As a base coat, this 3 in 1 varnish will provide care and vitality to eliminate streaks, improving the appearance of your manicure.
You can also use it as an enhancer, "perfect nails" effect guaranteed for perfect hold for up to 6 days!
Finally, if your nails need in-depth treatment to regain some vitality, no problem either, 3 coats every 3 days and in 3 weeks your nails will be like new!
The best of cosmetics in one varnish by Clever Beauty
Thanks to the benefits of Durio and its natural composition, this polish helps boost your keratin and zinc production, providing healthier cell renewal.
Indeed, Durio is essentially composed of good quality fibers, proteins and lipids, not to mention a rich intake of vitamins B1, B2 and B3!
Its natural composition without endocrine disruptors or other toxic products is suitable for all women (even pregnant women and children).
In the end, isn't it nice to take care of your nails with such a complete quality product?
If you too would like to discover this pleasure and give your nails essential care, don't hesitate and receive yours this week!
Size: 10.5ml
Yuka rating: 93/100 (Excellent)
Ingredients
BUTYL ACETATE, ETHYL ACETATE, NITROCELLULOSE, ADIPIC ACID/NEOPENTYL GLYCOL/TRIMELLITIC ANHYDRIDE COPOLYMER, ACETYL TRIBUTYL CITRATE, ALCOHOL, TALC, STEARALKONIUM BENTONITE, BUTYL ACETATE, HYDROGENATED CASTOR OIL/SEBACIC ACID COPOLYMER, ETOCRYLENE, DIACE TONE ALCOHOL, CI 77891, TOCOPHERYL ACETATE , GLYCERIN, ETHYL ACETATE, ISOPROPYL ALCOHOL, DIMETHYL OXOBENZO DIOXASILANE, AQUA, PHOSPHORIC ACID, GLYCOLIC ACID, MALIC ACID, LACTIC ACID, CI 77742, CI 19140, CI 15850, DURIO ZIBETHINUS FRUIT EXTRACT

Use & Care
For a restorative effect, apply 3 coats as a treatment, allowing to dry between each application. Remove makeup from your nails with the natural almond nail polish remover from the same range, then repeat the operation for 3 weeks.

Otherwise apply as a colored varnish for a delicate powdery finish over a base coat and finish with a layer of top coat.
Shipping & Returns Information
We ship worldwide, cost and delivery time depend on your location.
We gladly accept returns of unused products within 30 days of purchase.