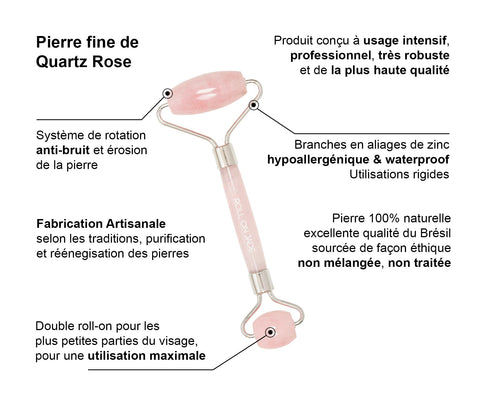 Roll-on en Quartz Rose
Pour un rituel beauté et anti-age au naturel, adoptez le Roll-on en Quartz rose. 
Idéal pour prendre facilement soin de sa peau au naturel et de chez soi, il vous apportera un teint plus lumineux et éclatant jour après jour.
Une action liftante et un drainage lymphatique 
Ce rouleau de massage traditionnel chinois s'utilise par automassage. Il suffit de le faire rouler sur la surface de la peau pour faire circuler le sang et faire pénétrer efficacement les soins.
Utiliser en complément de votre soin du visage ou huile hydratante, il vient tonifier l'ovale du visage et détent les muscles, pour lutter contre le relâchement et le vieillissement cutané.
Il stimule profondément le collagène, aide à drainer les toxines et réactive la circulation.
Une utilisation simple et efficace
Appliquez une huile, un sérum ou un masque en tissu, puis procédez à l'automassage. Ce rouleau de massage en quartz rose est idéal pour le contour des yeux. Il élimine les poches et les cernes, parfait pour un coup d'éclat rapide le matin.
Le petit plus
Pour un effet décongestionnant et dynamisant sur la peau, placez votre Roll-on dans votre réfrigérateur avant de l'utiliser bien froid.
Le pouvoir du Quartz Rose
En litothérapie, le Quartz rose est la pierre de la feminité et de l'amour. Il renforce l'équilibre et l'amour de soi. Il est connu pour ses pouvoirs cicatrisants, apaisants et anti-âge.
Une fabrication éco-sourcée
Ce rouleau de massage n'est malheureusement pas fabriqué en France, mais éco-sourcé au Brésil par la marque française engagée Roll On Jade. Avec ses 2 rouleaux de tailles differentes, il est parfaitement conçu pour épouser toutes les zones du visage et vous offrir un experience optimale.
Pour aller plus loin dans votre routine beauté au naturel, nous vous conseillons d'utiliser le Guasha en complément de votre Roll-on Jade.
Ingredients
Use & Care
Shipping & Returns Information
We ship worldwide, cost and delivery time depend on your location.
We gladly accept returns of unused products within 30 days of purchase.