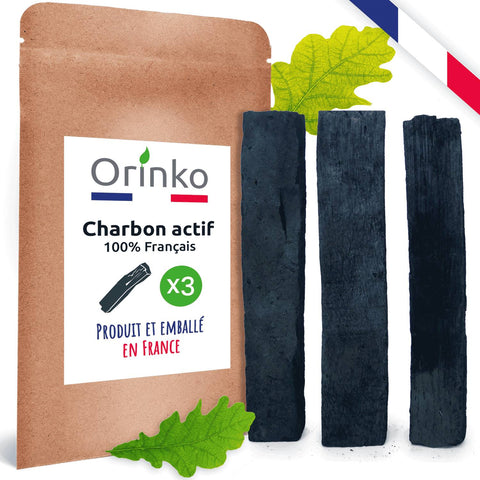 Activated carbon to purify water x3
Don't like drinking tap water? Activated charcoal is made for you!
Finally a French activated carbon
Made in France from French Oak or Beech wood from the recovery of sawmill waste in France, activated carbon is the ideal solution for simply purifying your water.
Easy to use
Simply boil it a few minutes before the first use, then leave it in the carafe for a few hours to fully benefit from its virtues.
Activated charcoal is effective for approximately 6 months before needing to be replaced.
A natural solution to consume better
The activated carbon will attract molecules of chemicals and heavy metals which will lodge in its micropores on the surface.
This patented transformation process will allow the filtration of tap water, the elimination of pollutants such as chlorine, and softens the pH of the water.
Activated carbon will also release minerals and trace elements necessary for our body.
Put an end to plastic water bottles
Activated carbon allows you to benefit from filtered water without constraints. It is the zero waste solution to adopt on a daily basis to consume better while saving money and improving your impact on the planet.
When it is no longer effective, you can compost it or give it a second life (dehumidifier, wave reducer, fertilizer, or deodorizer).
Sold in batches.
Ingredients
Made in France from French oak or beech wood from the recovery of sawmill waste in France.
Use & Care
French charcoal is used directly in a carafe, a bottle or a gourd.

Boil the charcoal stick 10 minutes before first use or after each month of use to maintain good filtration
Let dry for a few minutes
Place the charcoal in a jug and immerse it in water
Make sure the neck is wide enough to easily remove the charcoal if necessary.

Filtration time

4h (87% chlorine eliminated)

8h (100% chlorine eliminated)

Effective time

approximately 6 months


Shipping & Returns Information
We ship worldwide, cost and delivery time depend on your location.
We gladly accept returns of unused products within 30 days of purchase.