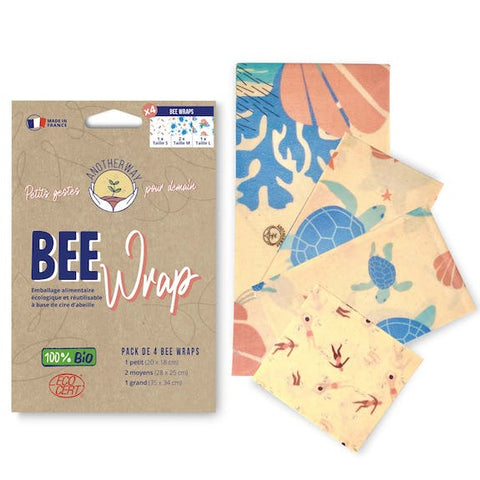 4 Ecological Food Packaging
Opt for an Eco-Friendly Lifestyle with Eco-Friendly Food Packaging
Looking for a sustainable solution to preserve your food and reduce waste? Look no further, eco-friendly food packaging is here to meet your needs. Carefully manufactured in Marseille in an ESAT, a center for reintegration through employment, these packaging are a zero waste and non-toxic alternative to traditional aluminum foil and plastic film. By choosing the ANOTHERWAY brand, you make a positive contribution to the preservation of the planet while benefiting from the practicality of reusable food storage.
A Versatile 4-Piece 100% Organic Set
Discover the versatility of our 100% organic Beewrap 4-piece set. Each set includes:
1 Beewrap S (20 x 18 cm): Ideal for wrapping fruit or covering a bowl.
2 Beewrap M (28 x 25 cm): Perfect for covering a small plate or wrapping a melon.
1 Beewrap L (35 x 34 cm): Ideal for covering a salad bowl or a larger container.
Say goodbye to single-use plastics and adopt a practical and environmentally friendly solution for storing your food. Whether you're packing lunch, storing leftovers, or covering a freshly prepared dish, Beewraps are here to make your life easier.
Simple and Easy Daily Use for an Ecological Approach
Using Beewraps is child's play:
Preparing for Success : Before first use, lightly crease the Beewrap several times to make it more flexible.
Careful Wrapping : Place the Beewrap over your food or container and gently press down the sides to shape into your desired shape.
After Use : After use, simply clean the Beewrap with cold soapy water, rinse and dry with a clean cloth.
Easy Storage : Fold the Beewrap and store it flat until its next use.
Please Note: Avoid direct contact with meat or fish, and refrain from using wrappers with hot foods or in the microwave. Opt for a healthier and more sustainable way to preserve your food with Beewraps.
Ingredients
GOTS cotton woven and printed in Spain certified organic Ecocert
Beeswax from French apiaries
Pine resin from the Landes ecocert
French Organic Sunflower Oil


Made in Marseille, in an ESAT that employs people with disabilities 🇫🇷

Use & Care
It is advisable to crease it a few times to soften it before the first use.

Place the Beewrap on the food or dish to be wrapped and press the sides to give it shape.

After use, clean with cold soapy water, rinse and dry with a clean cloth. You can fold it up and store it flat waiting for the next use.

Do not use directly in contact with meat or fish, or on hot or microwave foods.
Shipping & Returns Information
We ship worldwide, cost and delivery time depend on your location.
We gladly accept returns of unused products within 30 days of purchase.