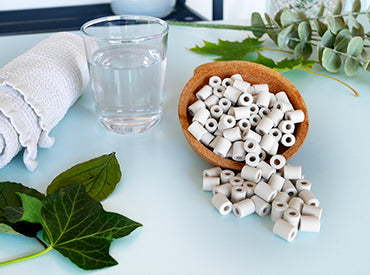 Ceramic beads for tap water
Ceramic beads improve the taste and quality of water.
You will love drinking tap water!
A natural solution to consume better
Made from clay fired at very high temperatures (up to 1000°C), ceramic beads are enriched with effective micro-organisms, called "EM".
The action of these micro-organisms will then modify the quality of the water to soften it significantly, avoiding the unpleasant taste of chlorine as well as the adhesion of limescale.
Pink ceramic beads (fired at a lower temperature of 800 to 900°C) are recommended for purifying the water that we consume directly. Their porous texture will absorb heavy metals and chemicals present in drinking water to get rid of them.

Easy to use

Simply let the pearls soak in water for around thirty minutes to fully benefit from its virtues.
Their maintenance is very simple... just wash them with soapy water when you notice a loss of effectiveness. You can then grind them and compost them.
Say stop drinking plastic water bottles
Ceramic pearls allow you to benefit from filtered water without constraints. It is the economical and ecological solution to put an end to the overconsumption of plastic and improve its impact on the planet.
When they are no longer effective, you can grind them up and compost them.
It is the zero waste solution to enjoy purified water easily and naturally without constraints.
Ingredients
Soak the pearls for 10 minutes in boiling water before first use
Let them dry
Add your pearls to the carafe of tap water
Leave the water to act for 30 minutes before consuming the water.
For greater effectiveness, you can leave the pearls in the water.
Wash your pearls with soapy water when you notice a deposit.

Effective time
6 months
Use & Care
Keep out of reach of children
Do not ingest
Shipping & Returns Information
We ship worldwide, cost and delivery time depend on your location.
We gladly accept returns of unused products within 30 days of purchase.