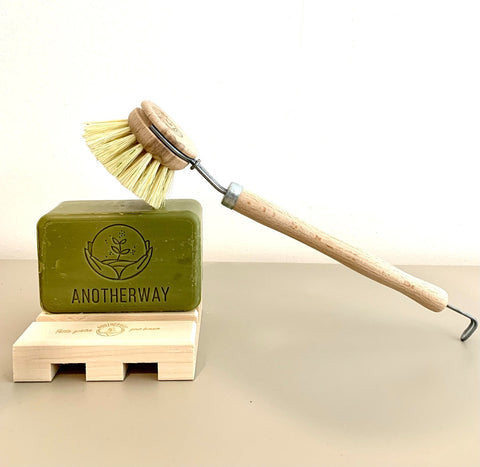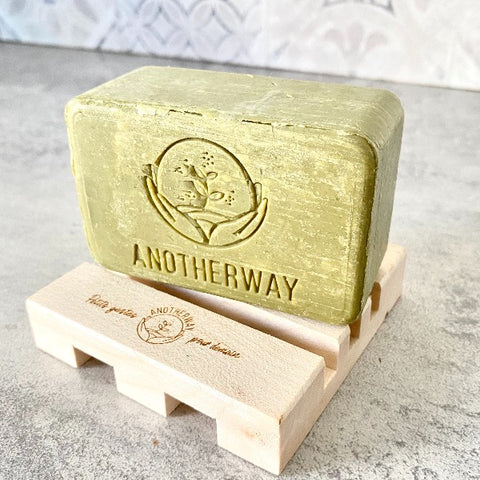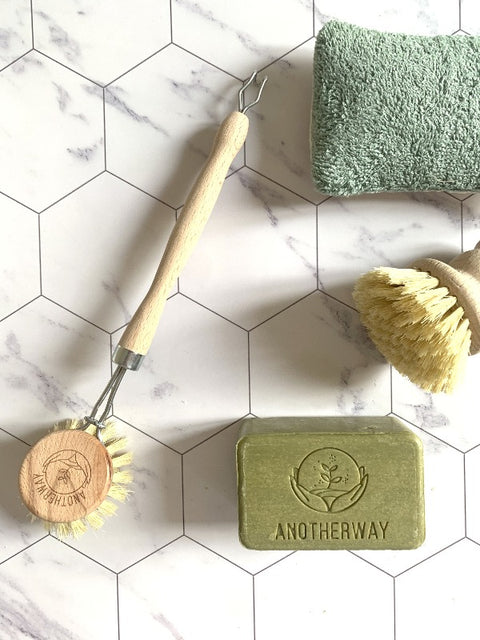 Dishwashing Combo - Soap Brush and Soap Dish
Do you want to take an ecological approach in your daily life?
Why not just start with cooking!
Doing the dishes in an eco-responsible way has never been easier with this Dishwashing kit including:
a wooden brush ,
rosemary dish soap
a pretty wooden soap dish ,
all made in France (or neighboring France for the brush) by our Marseille supplier Anotherway.
A useful and effective kit
This kit has everything good, for you and for the planet. It is plastic and chemical free and ultra economical since it will last you 3 times longer than a disposable sponge and traditional dishwashing liquid. With the dish combo, not only will the work be done simply and efficiently ; but in addition, it will allow you to improve your impact on the environment.
High-performance accessories
This kit has been designed to make washing dishes easier for you, while respecting the environment . Made up of a selection of Anotherway products, the tableware combo is reliable, practical and economical . Soap lasts much longer than traditional dishwashing liquid, and the dishwashing brush is undoubtedly more efficient than the disposable sponge, which is also polluting and harmful to the environment.
Quality and efficiency.
Much prettier than a plastic bottle and a scraper sponge, the ecological dishwashing kit will fit perfectly into the decoration of your kitchen. In addition to being practical and eco-responsible, using this tableware combo also improves hygiene and cleanliness in your kitchen. Now you can say goodbye to wet sponges where bacteria proliferate.

Make your life easier... You will love doing the dishes :)
Ingredients
Find all the information on our product pages:

Wooden Dish Brush

Rosemary Dish Soap

Wooden soap dish

Use & Care
Place the soap on the wooden soap dish and recycle its packaging cardboard.

Moisten your dish brush, and scrub it with soap!

Wash your dishes normally.

Let the brush dry in the open air by hanging it by its metal hook and leave the soap on its wooden soap dish.




Shipping & Returns Information
We ship worldwide, cost and delivery time depend on your location.
We gladly accept returns of unused products within 30 days of purchase.