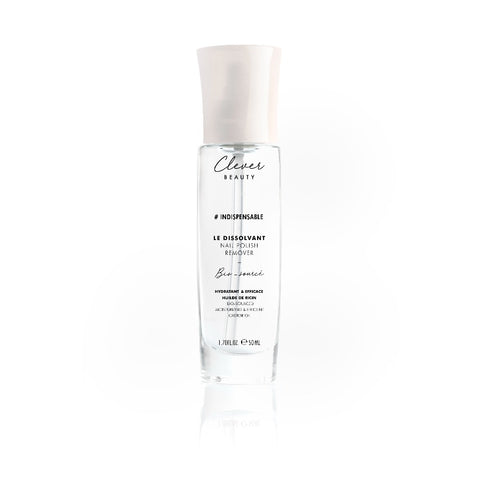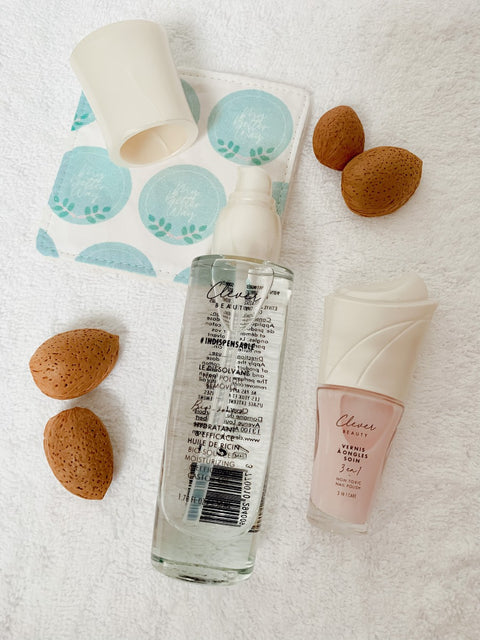 Organic nail polish remover #Indispensable – restorative care
An organic, natural and vegan nail polish remover, what more could you ask for?
You dream of it... Clever Beauty, this committed French brand, has done it! This product respects both your opinions and your commitments, while maintaining optimal and pleasant efficiency.
Because it is essential to maintain the notion of pleasure when taking care of yourself, this product has been designed to make the chore of removing nail makeup both pleasant and green. Made in France, it even offers the guarantee of being cruelty free (not tested on animals), a commitment that is still rare at the moment on the cosmetics market. Now if you are wondering if this product is effective, the answer is Yes, but not only that.
Nail care for a perfect manicure
Thanks to its composition, it will remove makeup from your nails in no time, while offering them care with castor oil. No worries about the smell either, it is not a chemical solvent, but a natural solvent without acetone, whose smell will avoid any discomfort... On the contrary, its delicate scent of Sweet almond will make you addicted!
The new essential makeup remover accessory
"How to remove makeup from your nails without damaging them? ", will not be a question you ask yourself from now on. The opposite, since this nail polish remover will have regenerating effects on your nails to nourish them and provide them with additional care.
The little extra of this bottle, its pump system which allows you to put only the right amount of nail polish remover on your cotton, even more savings!
So don't wait any longer and support your commitments while protecting your nails with a nail polish remover made from the best available today.
In addition, its glass bottle is returnable. Send it back to me or bring it back to me in Arles or Aix en Pce and receive a €4 voucher to be used on your next order across the entire store.
Size: 50ml
Yuka rating: 100/100 (Excellent)
Ingredients
Ingredients :

Ethyl acetate, perfume, ricinus communis seed oil.

Capacity 50ml


Use & Care
Apply to the nail for gentle makeup removal and a nourishing effect, with a washable wipe dedicated to nail care.
Shipping & Returns Information
We ship worldwide, cost and delivery time depend on your location.
We gladly accept returns of unused products within 30 days of purchase.