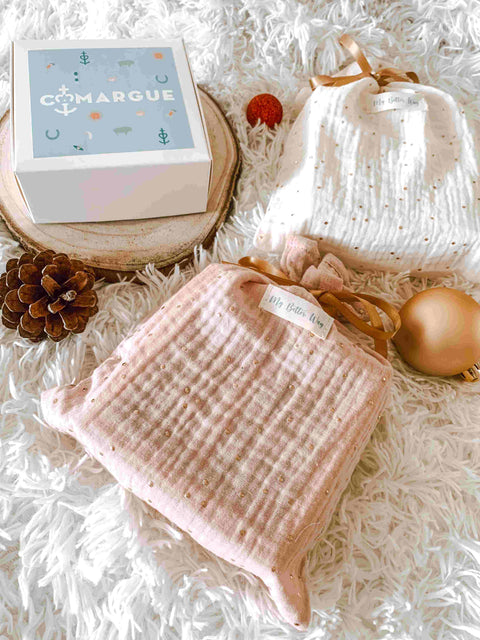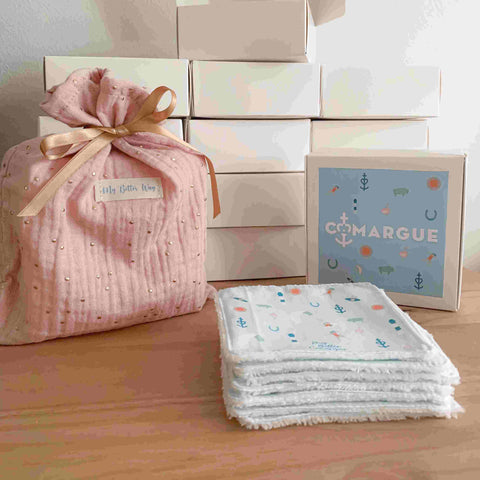 Pochon cadeau en double gaze de coton 🎁
🎄 Pochon Cadeau Réutilisable en Tissu Certifié EOKO-TEX - Une Touche d'Élégance pour vos Présents de Noël 🎄
Ce Noël, ajoutez une touche de magie à vos cadeaux en remplaçant le papier traditionnel par notre magnifique pochon cadeau en tissu, cousu à la main avec amour dans le pittoresque cadre de la Camargue, dans le sud-est de la France. ❤️
✨ Fabrication artisanale et solidaire en ESAT
Cousu minutieusement, chaque pochon est une œuvre d'art confectionnée avec soin pour apporter une note chaleureuse et authentique à vos festivités.
🌿 Matériau Certifié EOKO-TEX
Le tissu à pois dorés en double gaze de coton est certifié EOKO-TEX, garantissant non seulement une beauté éthérée mais aussi le respect de normes environnementales strictes.
🎁 Polyvalent et Pratique
Bien plus qu'un simple emballage cadeau, notre pochon est un accessoire polyvalent. Utilisez-le pour emballer vos précieux présents, puis réutilisez-le comme un pochon chic pour vos produits de beauté, vos sous-vêtements ou même comme un organisateur de sac. Sa taille généreuse de 25 x 19 cm environ vous offre la liberté d'y glisser tout ce que vous désirez.

🌟Une Idée Cadeau Éco-Responsable 
Tous les ans, des tonnes de papiers et d'emballages sont jetés sans considération le lendemain de Noël. 
Avec notre pochon cadeau réutilisable, offrez non seulement un présent, mais aussi une démarche éco-responsable pour deux fois plus de plaisir !

✨Élégance et Durabilité Réunies
Optez pour le luxe durable en offrant un cadeau qui continue à faire briller les yeux bien après les festivités.
👉 Faites de chaque cadeau un geste éco-chic !
Commandez votre pochon cadeau en tissu maintenant disponible en Blanc cassé ou Rose clair.

Ingredients
Tissu double gaze de coton
Lien Ruban satin doré
Use & Care
Shipping & Returns Information
We ship worldwide, cost and delivery time depend on your location.
We gladly accept returns of unused products within 30 days of purchase.