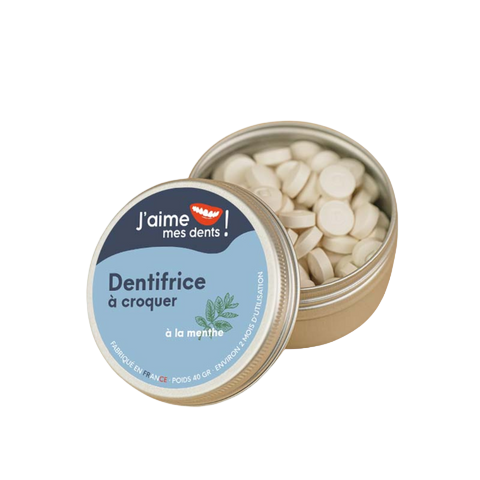 Mint Chewable Solid Toothpaste
Solid Chewable Toothpaste for Impeccable Dental Hygiene - 2 Months of Natural Freshness
Solid Chewable Toothpaste for Impeccable Dental Hygiene
Natural Ingredients for Natural Freshness
Our solid toothpaste is made in France with natural ingredients. Say goodbye to controversial fluoride, and welcome xylitol, a birch sugar, and calcium carbonate, your natural allies against cavities. Give your teeth natural protection and lasting freshness.
An Ecological and Practical Smile
With a compact aluminum can weighing just 51 grams, our solid toothpaste is perfect for on the go. Each box contains 120 mint lozenges, equivalent to 2 months of clean teeth with 2 brushings per day. Using it is easy, practical and fun, even for your children. Finally, they will love brushing their teeth!
Ingredients
INCI LIST

Xylitol, Calcium citrate, Calcium carbonate, Zea mays starch,

Sodium coco-sulfate, Bentonite, Sodium bicarbonate, Magnesium

stearate, Aroma, Citric acid, Mentol, Wanthan gum.



Does not contain fluorine
Use & Care
Chew the toothpaste tablet and moisten your eco-friendly toothbrush before brushing your teeth and rinse as you would with regular toothpaste.

Please note, this product contains essential oils and is therefore not recommended for pregnant or breastfeeding women as well as children under 7 years old.

Do not swallow !
Shipping & Returns Information
We ship worldwide, cost and delivery time depend on your location.
We gladly accept returns of unused products within 30 days of purchase.