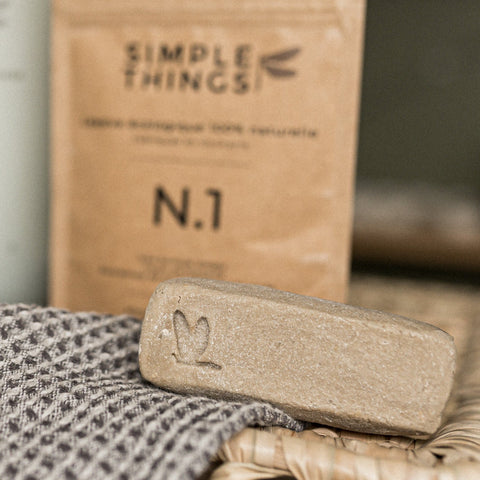 Stick détachant magique 100% naturel
Découvre le Stick détachant magique 100% made in France !
Tu en as marre de te battre avec les taches tenaces sur tes vêtements préférés ? Ne cherche plus, le Stick détachant made in France est là pour te sauver la mise !
Un allié naturel contre les taches : Terre de Sommières et Savon de Marseille
Imagine une solution à base de Terre de Sommières et de Savon de Marseille, deux ingrédients naturels, pour éliminer toutes tes taches sans te fatiguer. Plus besoin de te ruiner avec des produits chimiques agressifs, ce stick va faire tout le boulot pour toi !
Adieu les corvées de lavage, bonjour à la simplicité !
Fini les heures passées à frotter ou à désespérer devant une tache. Avec le Stick détachant, c'est rapide et efficace. Applique-le simplement sur la tache, et regarde-la disparaître comme par magie. Moins d'efforts, plus de temps pour toi.
Compatibilité totale avec tous tes vêtements
Peu importe le type de tissu, ce Stick détachant est ton allié. Que ce soit du coton délicat ou de la laine précieuse, il protège tes vêtements tout en éliminant les taches. Plus besoin de sacrifier ta garde-robe à cause d'une tache imprévue.
Éco-friendly et 100% français
En plus d'être efficace, ce stick est éco-responsable, fabriqué en France. Tu peux prendre soin de ton chez-toi tout en respectant notre belle planète.
Simplifie-toi la vie dès maintenant !
Ne perds plus de temps à lutter contre les taches. Commande ton Stick détachant made in France dès aujourd'hui et redis adieu aux taches pour de bon. La magie de la propreté sans effort t'attend !
Ingredients
Terre de Sommières
Savon de Marseille
Use & Care
Humidifier le stick et la tache, appliquer sur la tache, frotter et rincer.
Shipping & Returns Information
We ship worldwide, cost and delivery time depend on your location.
We gladly accept returns of unused products within 30 days of purchase.